John Livingston is a classically trained pianist and a music graduate from Los Angeles City College and Cal State Long Beach. He has been composing and arranging music for over 30 years.
He has composed and produced arrangements for Advertising, scored keyboard orchestrations for Short Films, Travel Video Soundtracks and his original Tribute to the Space Shuttle Program, entitled "Shining Again America."
His Latin Pop-Rock song "Hector" was included in the soundtrack of the recent Quentin Tarrantino movie, "Once Upon a Time in Hollywood."

John Livingston began producing the "Candlelight Classics" Collection of CDs and cassettes in 1992
His romantic piano style and elegant orchestrations create a soothing and relaxing atmosphere.
John features his own interpretations of well-known Classical, Popular and Country tunes, favorites from Stage and Screen, Inspirational and Religious pieces, music for Relaxation, Jazz, Swing, Christmas music, and his own Original Piano Compositions.
Candlelight Classics appeal to a wide range of listeners in the category of easy-listening piano music.

John has been entertaining audiences for many years throughout Southern California and Canada, performing at some of the finest Hotels and fine-dining establishments in Los Angeles County and the Inland Empire.
John also performs for private parties and corporate functions.
What impresses John's fans the most about his performance is his passion and delicate piano touch. He commands an improvisational style in his musical interpretations of classical, popular and jazz favorites. His extensive repertoire also includes his vocal presentations of romantic and popular ballads.  (See performance video below.)
John continues to update his fans regarding local appearances and his scheduled intimate home concerts.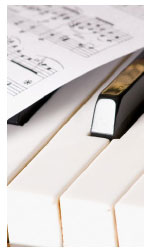 Background music: "Romance" by John Livingston from Candlelight Classics 9 CD, "Interlude"
For Booking John Livingston:  johnlivingstonmusic@gmail.com
or call Livingston Music: (626) 966-8147