GIFT CERTIFICATES and E-CARDS AVAILABLE for CDs and MP3 FULL-ALBUM DOWNLOADS
CALL US at LIVINGSTON MUSIC: (626) 966-8147
Toll Free (866) 868-8648
or
use our CONTACT US section to send an email with your phone #.
We will return your call to place your order.
FOR MP3 ALBUM DOWNLOAD GIFTS
BY EMAIL:   E-Coupon Gift Card sent to you or to your party's email,
along with your personal message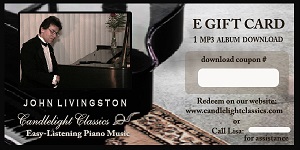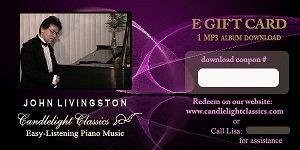 BY US MAIL:  Gift Certificate Coupon for MP3 Album download
enclosed in an attractive gift envelope, sent US Mail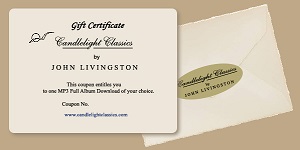 FOR CD GIFTS
Gift Enclosure Card for one Candlelight Classics CD Album
We will mail the CD of your choice
and include this card with your personal message.