John's Newest CD Releases

POP Classics 2 — More Hit Songs Through the Decades

Continuing with your memories of favorite songs from the 70's to today
 
POP Classics — HIT SONGS through the DECADES
John Livingston's piano interpretations of your favorite songs from the 70's to today

Country Classics Music
John's piano interpretations of your favorite Country songs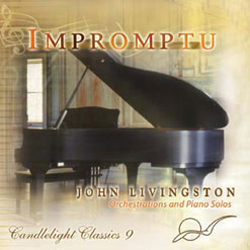 Candlelight Classics 9 – "Impromptu"
Featuring John's newest classical-music original piano pieces.
Easy-Listening Popular and Classical Favorites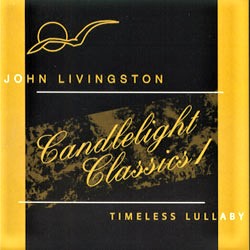 Candlelight Classics 1 – "Timeless Lullaby"
John's best-selling Classical/Romantic Album since its release in 1995, featuring world-renowned melodies — beautiful background music for your travels 
Candlelight Classics 2 – "Romantic Interlude"
Featuring all-time Romantic favorites, including "Somewhere in Time."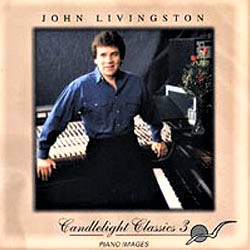 Candlelight Classics 3 – "PIANO IMAGES"
Enjoy John's romantic interpretations of some of his personal favorites. Includes the popular choice for weddings, "Canon in D."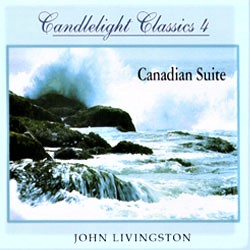 Candlelight Classics 4 – "CANADIAN SUITE"
John's homage to his concert tour and time spent in Vancouver, British Columbia.
Candlelight Classics 6 – "SONATA"
Featuring more of John's original compositions and favorites from movies and stage
Candlelight Classics 7 – "Ballerina Dance"
John's original compositions and other favorite musical interpretations displaying his beautiful piano and orchestral arrangements.
Candlelight Classics 8 – "Wonderland of Classics"
Reflections of John as a young child learning to play the piano and the repertoire included in this Album.
Candlelight Classics MOVIE THEMES
Movie Classics – "Melody of Dreams"
Introduced in 2004, the 4-CD collection of well-known movie themes became an instant favorite, featuring some of the best-loved songs composed for film.
Movie Classics 2 – "Eternal Love"
Featuring the most popular of the I-TUNES downloads from the Candlelight Classics Collection – "Theme from The American President."  Enjoy this melody and other featured classics.
Movie Classics 3 – "Time After Time"
The song "Time After Time" was introduced by Frank Sinatra in 'It Happened in Brooklyn.'  John also includes "Learn to be Lonely," introduced in the movie version of 'Phantom of the Opera.'
Movie Classics 4 – "Serenade in Blue"
John continues his walk down memory lane with these featured movie standards from the 40's and 50's
Candlelight Classics RELAXATION
Gentle Whispers
Experience the serenity that only beautiful music can provide. Gentle Whispers features a compilation of John Livingston's original compositions – selected for the peaceful and relaxing mood they create.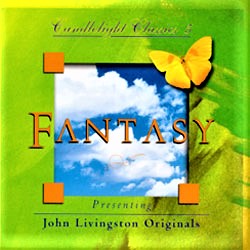 Fantasy
The first CD compilation of John Livingston Originals
Enjoy listening to John's delicate piano touch and his peaceful and relaxing melodies. His original compositions will take your soul into flight and fantasy.
Candlelight Classics INSPIRATIONAL
 Inspirational Classics 1 – "Wings"
Featuring John's soft and elegant piano style and beautiful orchestrations of the world's most cherished sacred and inspirational musical pieces – "How Great Thou Art", "Amazing Grace", "The Lord's Prayer" and many others.
 Inspirational Classics 2 – "REJOICE"
John composed 'Rejoice' as the opening piece for his second Inspirational album.  The Album also features many sacred and traditional melodies: "The Old Rugged Cross", "Beyond the Sunset", "Just a Closer Walk with Thee", "Great is Thy Faithfulness" and more.  .  .
Candlelight Classics JAZZ/SWING
A Touch of Jazz
Featuring John's first release of his easy listening Jazz interpretations of Classical selections and his original piano pieces.
Enjoy listening to his skillful transitions from Classical to Jazz.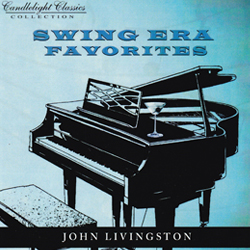 SWING ERA Favorites
This CD features Musical Favorite Memories from the swing era – Smile, In the Mood, It had to be You, Moonlight Serenade, Sentimental Journey, Night and Day . . . .
Christmas Classics Collection
Christmas Classics
Enjoy listening to traditional favorites throughout the year, such as "Jesu, Joy of Man's Desiring", "Ave Maria", and "Greensleeves" all performed in the soft, elegant piano/orchestral style John Livingston has made his own.  Holiday favorites include "The First Noel" and "O Holy Night" . . .
Christmas Classics 2 – "Fireside Chat"
This album features Karen Carpenter's memorable classic "Merry Christmas, Darling" and the title song "Fireside Chat," John's original piano piece with an easy-listening Holiday/Jazz flavor. Other popular holiday songs are "White Christmas" and "The Christmas Song" (Chestnuts Roasting on an Open Fire)
Christmas Classics 3 – "Winter Prayer"
The opening selection "My Winter Prayer" is John Livingston's original dedicated to our loved ones now celebrating Christmas from the heavens above. Enjoy a Holiday collection of both traditional and modern Christmas songs.